Apr 11, 2013: News Releases: Volta Resources Highlights Multiple Gold Exploration Targets on Regional St... (more...)

Mar 31, 2013: Financial Statements: Quarterly Financial Statements for the period ended March 31, 2013 (more...)

Mar 27, 2013: News Releases: Volta Resources Initiates Strategic Review Process In Relation To Its Gaou... (more...)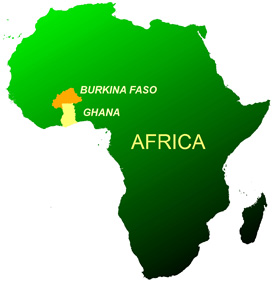 Volta Resources Inc. (TSX: VTR) has accumulated experience to become a leader in identification, acquisition and exploration of gold-rich properties in West Africa. Volta has an enviable portfolio of 9 exploration projects (comprising 28 individual properties) in the mining-friendly countries with proven world class deposits, namely: Burkina Faso and Ghana.

The Company has completed a prefeasibility study at its Kiaka Gold Project. Volta has recently updated the NI43-101 compliant resource at Kiaka, posting a Measured and Indicated Resources of 4,029,000 ounces and an Inferred Resources of 1,000,000 ounces. This resource is contained within a single open-pit down to an average vertical depth of 500m. Included in the resources are Proven and Probable Mineral Reserves of 126.08 million tonnes at a diluted grade of 0.96 g/t Au at a 0.40 g/t cut-off.

At its Gaoua Copper-Gold Project, Volta has defined a maiden NI43-101 compliant resource which includes over 1,072,000 ounces of gold and 725 million pounds of copper on two of potentially several porphyry deposits located on 35km of strike of a porphyry corridor held by the Company.

Volta Resources has the financial strength and flexibility to take advantage of consolidation and acquisition opportunities in West Africa. It has an exceptional team of dedicated professionals operating in the field as well as a highly experienced and respected Management and Board of Directors at the corporate level. Volta Resources Inc. is Canadian-based with its head office in Toronto, Ontario and its operations offices in Accra, Ghana and in Ouagadougou, Burkina Faso. The Company trades on the Toronto Stock Exchange under the symbol VTR.



Last
$0.230
Day High
0.240
Day Low
0.220
Volume
258680
Price Chg
+0.005
15-20 min delay/Trading in CAD $